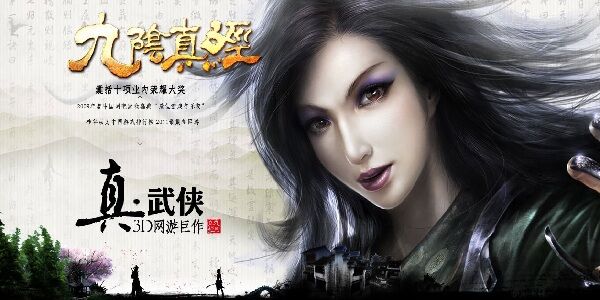 (Some of the dates might be slightly off, and there are a few grammatical mistakes here and there, but IMO this overview from dotmo.com does a pretty good job.)
Age of Wulin is a free martial arts MMORPG that takes place in the Chinese middle age. The game is being developed by Snail Game Studio and will be distributed in Europe by Gala Networks on the gPotato gaming portal. It has been developed since 3 years ago. Chinese folks have already launched the internal beta months ago, and the official beta will be launched in October (after Chinese national day).
The European version is expected to launch in 2012, a prolonged wait, but it is worth indeed!
According to an industry person, who prefers to be unnamed, Age of Wulin features "less grinding, more quests," and even there has been 20K quests implemented in the current version. Though the definition of quests is open to question, still the number remains impressive. The person also said the localization is only limited to the translations, which may pose an obstacle to understand the game due to cultural difference.
But what exactly is Age of Wulin at all? As mentioned above, it is based on classic martial arts TV Series of the same name. And skills and abilities include Crouching Tiger, Hidden Dragon and the like.
There are no fantasy elements like RIFT and WOW, instead, you can throw a punch using your inner peace (Remember in Kungfu Panda?). Whether a player is running up against walls, double jumping in the air or floating on water – everything looks smooth and well-integrated into the normal range of motion from sequences. However, we did not have a real picture as to whether this integration works well in combat.
Another important feature is that there are no classes or levels, but you can learn Skills. After you have enough skills and experience, you can become a KungFu master or a school leader. A large amount of these teachers can form a school. The school, however, has plenty of certain attitudes (good, neutral, chaotic) and also determines what skills you can learn. Within a school, you have the opportunity to rise in rank and theoretically even be the leader.
Fickleness, that is not a good attitude, but it could emerge in your heart at any time. In theory it would be possible to overcome this using other fighting styles, but this would take an enormous amount of time. Anyway, the skills that you learn in school are far from being the best, instead, you will have to seek more teachers with different school believes.
Even you could meet an old beggar, mysterious NPC in Age of Wulin. After you've donated plenty of coins to him, he may teach you some excellent skills as he may be a hidden kung-fu master. Granted, this all sounds great, but raises some concerns whether the real game is doing like this? All of information are not from our experience, but from the inside persons.
Like most of MMORPGs, Age of Wulin has classical instances, in one of which more than 40 participants could form a team to raid in the same map at the same time.
With respect to the PVP, I should say the school can be considered as an agent for PvP though, and the fight is possible at any time, so much so that everyone can attack everyone. Should you, however, kill other players for no reason, you will get trouble with the guards very quickly. With diversified skills leaned, you can also perform combos.
For those who love conquering empires or castles, Age of Wulin also lets players take control of more 32 guild castles as long as they are powerful enough. After you conquer the castle, you can upgrade and make it useful of building a guild shop or a gym.
The defense strength is of course improvable. In the war room, for example, you are allowed to hire NPC mercenaries. Should they succeed in taking an enemy fortress in a guild, their development status is reset.
There are also some class-producing activities such as the blacksmith or the poisoner. But beyond that, there are also doctor, musician, chess player, beggar and many more. The chess player must e.g. really play chess to improve his skills. All these non-manufacturing jobs but have their meaning. The chess player is a great strategist and can therefore start a tactic in the group (probably a kind of buff). The calligrapher has, however, the ability to copy skill books. There are even fortune-tellers, and they can give other players "wisdom" to learn certain skills with their prophecies.
Items aren't the most important things in the game, because both the skills and players themselves will have much more influence on victory.
Conclusion
Yes, I admit that Age of Wulin do separate way like Most of MMORPGs, and Snail Games seems to inject more fresh ideas rather than the stereotypes in the presentation of Age of Wulin.
The animations of the special moves look impressive and well-made integrated into the general flow. Even the system around the schools, NPCs and professions easily stand out from the standard MMOs.
In short, if you wanna try a unique MMO, yet ignore of the graphics (The graphics are not breathtaking, but nice and atmospheric.), Age of Wulin may be a new try in 2012.
Overview
Have you ever got bored of spamming mouth-clicking and level-grinding in most traditional MMOs? Then it's worthy of taking a look at "Age of Wulin – Legend of Nine Scrolls", which is rated as the most anticipated MMO of the year 2012 and is scheduled to be released next summer, although it's still a few months away, most MMO passionate fans are now bombarded with game information and trailers from game official websites of both Asia and European region.
The background story of Age of Wulin will take players back into ancient China, when it is the moment of the highest strength and glory ever attained by Ming Empire and people are immersed in traditional daily life. Meanwhile, the martial-arts have finally come to its peak, enjoying the most freedom.
The game features with its revolutionary "offline mode". Per official information, characters will not disappear from the game after players log off the game like other traditional MMOs; instead, characters will be still active in the persistent game world! This is the most innovative element that none of others involves. Most people cannot help imagining how the system works. Will players be allowed to issue commands to the characters so they are able to do some simple tasks as per the request? Or will characters just keep their routine daily life, wander along the street, greet other players or run a grocery store like other NPCs? The truth is still engulfed until game developer updates it later.
Doing away with the traditional "fighter, mage and cleric" system, the game creatively brings forth a brandnew classless and leveless concept. In the initial stage, players can select their path from eight different fractions, which feature 8 different schools of combat styles, armed or unarmed, and are also allowed to learn skills of other schools when becoming a membership of corresponding factions. Just imagine the ingame scenario where characters are able to walk ontop of water or leap from rooftop to rooftop.
The combat system also bears its unique characteristic. Jumping out from the traditional auto-lock-on-target MMOs and monotonous mouse spamming operation, it put much emphasize on keyboard operation. Upon successful hit on target or weapon hit each other hard, it produce such special effects so as to enhance the striking feeling, which almost approach the level of action games.
Besides, the game also involves some new concept like housing and marriage system. But details of these new elements still remain unknown and cannot be more specific.